Where is the meeting point of the Palma airport? Where I waiting easy-taxi?
This is the plane of the meeting point of Palma airport, where we will be waiting. To view more images Press.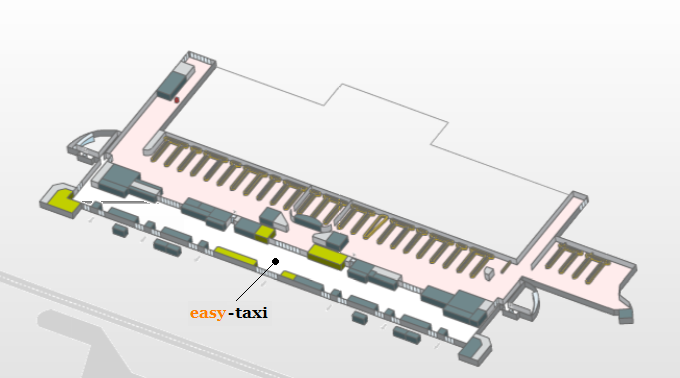 I have to pay something to account for the reserve?
You do not have to pay anything in advance, All trips are paid at the end of the service.
What if there are delayed flights?
Do not worry, we are informed at all times by AENA about flight schedules and new arrival time. The price will remain the same.
What the capacity have the taxis?
The capacity maximum in a taxi is four passengers, Babies and children be included in the total number of passengers.
What baggage can take taxis?
Please advise if it takes some luggage out of the ordinary or sport bikes, golf clubs and get out of the normal measures, bikes 5€
What if I have lost my luggage?
In the case of loss of your luggage, please contact us at the phone contact, to be informed of its incidence, the transfer shall be effected without charge.
I want only booking a trip, it's possible?
Of course, if you need to return to Palma Airport, tell the taxi driver and fill in a form identical to the first leg, can not collect in the towns of Calvia, the return will be held with the municipalities cited taxis.
How can I cancel my booking ?
You can cancel your booking, letting us know with at least 6 hours by email or telephone contact at no cost, if the reason for your cancellation is cancellation of your flight, inform us the new flight number button to confirm your new time and day arrival. Other, we would like you to inform us if possible.
     Please do not hesitate to contact us with your requests for more information.